Last month Kentico Kontent announced a series of new and exciting product updates to enhance and improve the platform for content editors. These latest tweaks are designed to make it quicker and easier to manage, view and add new engaging content to your website.
Latest Feature Releases
Content Groups
Organising the chaos of multiple elements, assets and data, Content Groups provide a quick and simple solution to inform your content editors what they need to be working on. The new function allows you to easily split your existing content model into tabs, group elements, split content across roles or specific project areas, and even add emojis!
Project Overview
As we've said, again and again, content is the number one cause for delay in website development projects. Project visibility is essential to successful project management, and Kentico Kontent's new Project Overview dashboard allows you to quickly identify specific content areas that need attention and impending deadlines to ensure your project timeline doesn't slip.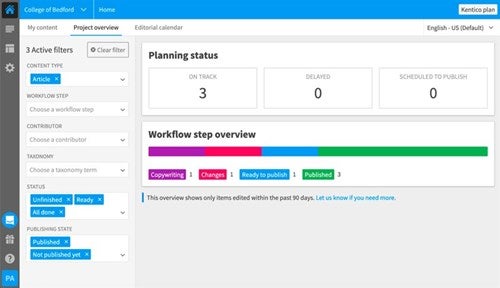 Introducing Home
Kentico Kontent has been working hard to improve their navigation and usability, starting with a new Home screen. The new Home page displays a list of relevant content, along with a Project Overview and Editorial Calendar, making it even easier for you to find the right content and manage your website.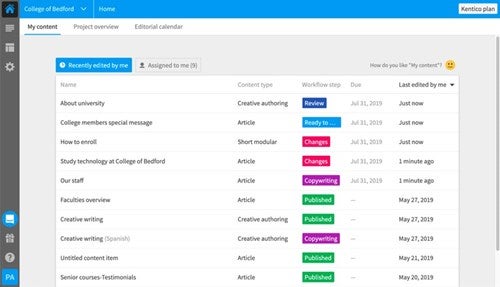 Fixes and UX Improvements
Support for Keyboard Shortcuts
Improving user experience for content authors was also high on the agenda for Kentico and their new Keyboard Shortcuts makes it even easier to implement text styling, editor-headings, lists, components and much more.
Why Kentico Kontent?
Kentico Kontent provides content editors with an easy to use headless CMS solution. Designed to encourage flexible cross-team collaboration, the platform de-couples content control from the front-end interface, allowing you to work on creating great content without the reliance on developers. Working on content creation and development concurrently helps to avoid bottlenecks and improves development and project delivery.
Our Thoughts
"The latest feature update for Kentico Kontent is evidence of their approach to iterate on the content editing and management experience. The new features will go a long way to simplifying the editor experience with the ability to split complex content models across multiple tabs. Furthermore, the new project and editor overview screens provide an at-a-glance look at the state of your content. These are yet more reasons why Kentico Kontent is our preferred headless CMS platform."
Richard, NetConstruct Kentico Developer
For more information about Kentico Kontent and the benefits of a switch to the platform, get in touch with us today.