The last Kentico Xperience Connection event occurred in 2020, more than 15 months ago making this year's event a welcome return.  
The 2022 edition discussed the latest market trends, Kentico Xperience's vision for the future, digital experience maturity and many other topics. Here's what we have to share…  
Digital experience maturity 
In 2020 the focus heavily revolved around modernising and keeping your company on top of its digital transformation. Now, the focus has shifted to evaluating your digital transformation and seeing where your company sits within the digital experience maturity model alongside picking the appropriate solution for your needs.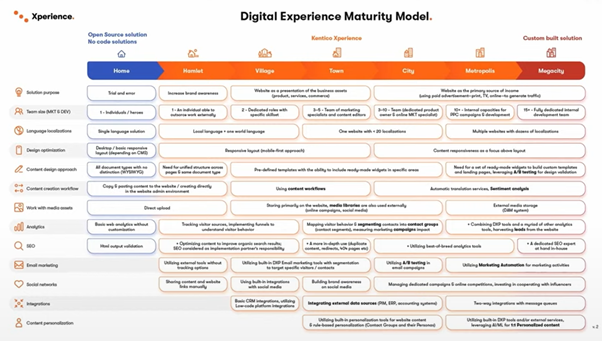 Kentico Xperience Digital Experience Maturity Model 
If your business is a Home on the digital experience maturity model, then you're likely to be a small business needing basic content management capabilities for a simple single language website.  For these businesses you're likely to look at free open-source solutions or no code drag and drop building solutions. 
On the opposite side of the model, big corporations with very large budgets are known as a Megacity.  These organisations will have a requirement to custom build and tailor-make every part of their solution to fit their exact needs. To achieve this, their IT and development teams will work together to select best of breed technologies to create their composable DXP. 
For every other business who sits in between, the best solution is a unified DXP such as Kentico Xperience. A unified DXP includes all modules and tools out of the box with a unified user interface, allowing you to experiment with features without the need to commit to purchase or integrate with third-party tools.   
As your company moves through the digital experience maturity model, you might outgrow a specific feature which is where Kentico Xperience's ability to decompose features comes into play.  For example, maybe you want to boost personalisation within your website by using the advanced feature set of a best of breed AI based personalisation tool. In this scenario, you can decompose or extend the existing feature and integrate with the third-party tool. 
The future: Xperience by Kentico 
Since the last Connection event, we've known that the Kentico Xperience team were eager to replace the slow and outdated .NET Web Forms technology currently being used in Kentico Xperience 13's admin portal. This year's event was the perfect place to demonstrate and showcase the new platform. 
The new platform is the next generation of Kentico Xperience and has been officially named as Xperience by Kentico.  You'll notice that the name is not versioned by a number (like Kentico Xperience 13) and this represents the move towards an evergreen product that is updated regularly in an agile fashion rather than infrequent annual numbered releases. 
Xperience by Kentico is fully rewritten using .NET Core (supporting .NET 6 and beyond) and uses one of the latest front-end development technologies ReactJS for the admin portal's user interface.   
Although this new platform will be launching soon, it will not be recognised as the flagship product immediately. At launch, the feature set will be smaller than Kentico Xperience 13, and features will be introduced over time through regular milestone and refreshes.   
For now, Kentico Xperience 13 will remain the flagship product and continue to be updated with its own quarterly refreshes. The Kentico Xperience team have committed to provide refreshes until at least the end of 2024 and provide technical support until at least the end of 2026.  

Current Kentico Xperience product roadmap 
The first website in production running Xperience by Kentico is already live, my very own blog website.  However, it isn't the only production website running Xperience by Kentico. There is a new DevNet website that the Kentico Xperience team have recently launched to support the new platform. 
You're probably wondering when and how you can migrate to the new Xperience by Kentico platform? Well, you'll be able to read more about that in the Introducing Xperience Adopters Program article coming in June.  
What else was discussed? 
While profound, this information is only a small part of the two-day event. We also enjoyed discussion panels, a highlight of top trends in DXP by Irina Guseva from Gartner, and many more great speakers including Kentico Xperience partners and MVPs.   
If you want to watch any of it back, keep an eye on the Kentico Xperience Connection website as it will soon be updated with recordings from the event. For any further information, or to chat more about what Kentico Xperience could do for your business, don't hesitate to contact us.