Why should you consider your 404 error page?  
A page every company needs but hope no one ever sees. The dreaded words 'error page' or 'page not found' can create frustration for users and cause them to leave your website. Whether it's due to a small typo or simply forgetting to create a 301 redirect, 404 pages happen to the best of us.  
But it isn't the end of the world. If users land on a broken page, you may as well distract them from the actual issue or even try to get an extra sale out of it! Not only can a well-considered and designed 404 page reduce customer frustration, it can also help reinforce your brand, linking to other areas of your website and, in some cases, may even lead to a conversion.  
How can you make a great 404 error page? 
The majority of 404 pages consist of an apologetic message linking back to your home (or another) page. Fairly boring and fairly predictable. Your 404 page, like the rest of your website, is another opportunity to communicate your brand in a memorable, engaging way. Here are some tips on how to achieve this:  
Ensure your 404 page is on-brand: This is a page you hope your users never have to visit, but your brand guidelines shouldn't be thrown out the window. Keep in mind when creating a custom 404 error page, you don't want your customers to feel like they've been taken to a completely new website, ensure it has the same look and feel as the rest of your site.  
Consider your links: As with any page on your website, this is an opportunity to direct users through their buying journey. Consider the links you place on this page, rather simply a link to your home page, why not also link out to your most popular articles, products or service pages.  
Add a hint of humour: Humour can detract from an issue and show your brand personality, all helping to keep the user engaged. Humour could be in the form of a graphic, copy or even in a video or game. Again, it's important to consider your brand and only implement what is appropriate and relevant to you.  
Use empathetic language: Recognise that your users may feel frustrated with the page they have just landed on. Use language that is empathetic and helps to guide them onto their possible next steps, so they don't see the page as a dead end.  
Our experience  
Last year, we worked with university laundry services provider, Circuit, to refresh their website design. Our design and UI team decided to do something a bit different with their 404 page, injecting life and personality into the page through animated elements. Drawing inspiration from real causes for washing machine repairs, Circuit have certainly seen some interesting items accidentally blocking the pipes. A reoccurring issue, particularly in universities, is pizza. We all know that students love a pizza at the end of a night out, and these have been known to get tangled up in their bedsheets and thrown in the washing machine resulting in blocked pipes and a call to the engineer. 
Taking inspiration from this, Circuit's new 404 page is both fun and on-brand, featuring an animated washing machine with a floating pizza slice representing the 0 in the 404. While the problem still exists, the animation distracts and entertains the user, hopefully enough for them to click on the redirect link without any negative thoughts!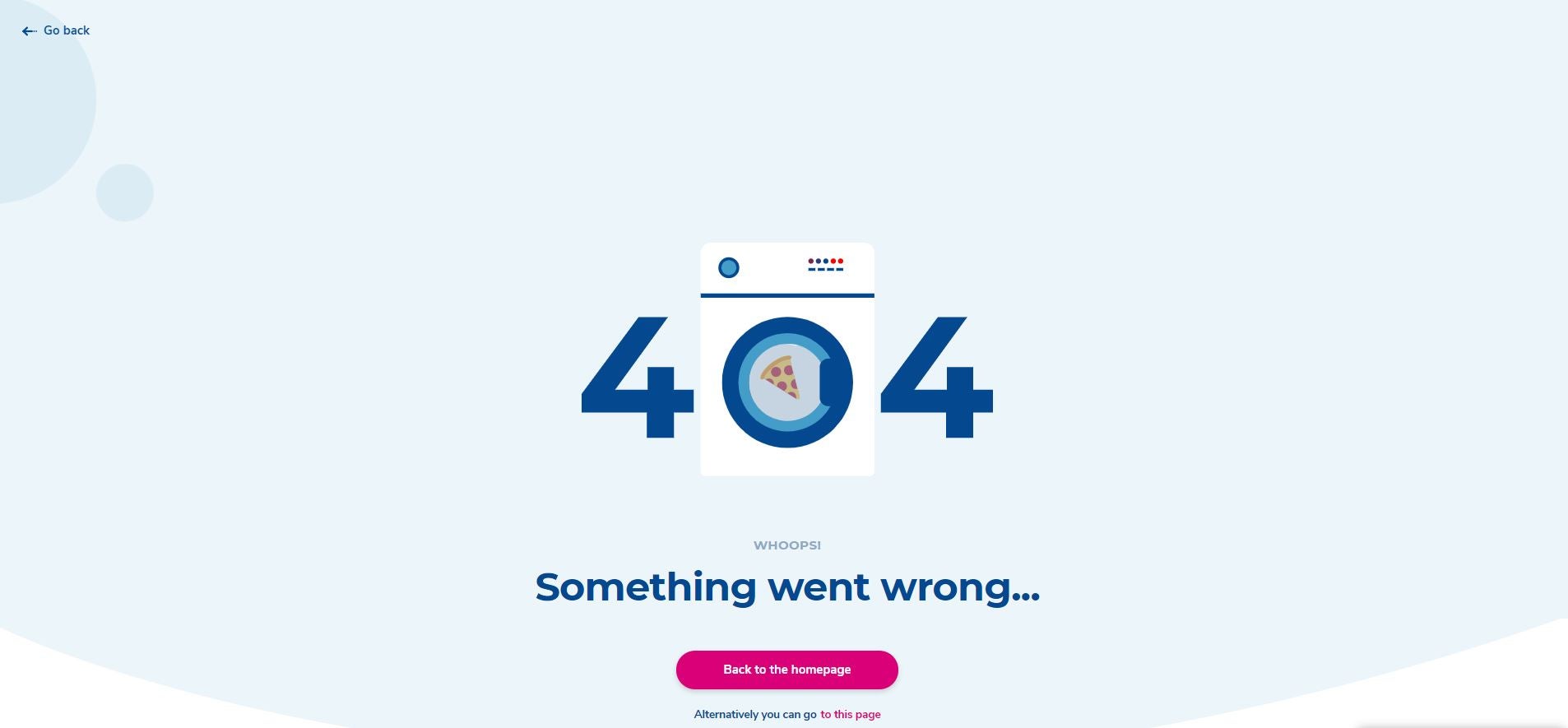 See the page: https://www.circuit.co.uk/404 
We also worked on a custom 404 page for our longstanding client, Ryobi. As a leading power tool provider, it was only fitting to play on typical DIY disasters. We created an animated 404 page showing a broken set of shelves with playful copy "Looks like something is broken! Don't worry, we have the tools to fix it." The 404 page also showcases a series of Ryobi's products with a link back to the home page to keep the user on-site and engaged.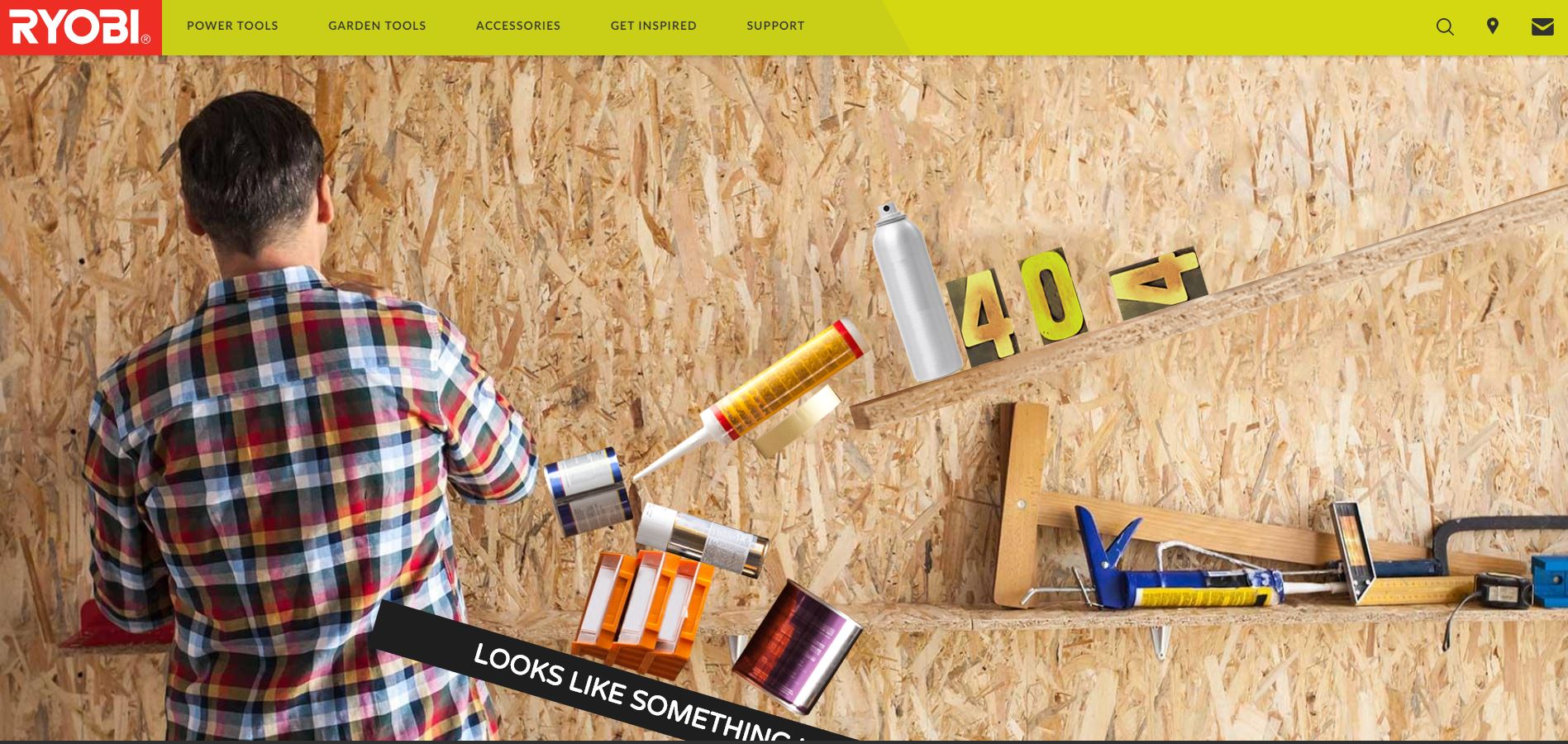 See the page: https://uk.ryobitools.eu/404/ 
It can be difficult to design a positive and memorable your 404 page as, really, you don't want your users to see it. However, your 404 page can work in your favour, showcasing your brand's personality and supporting usability of your website. It's inevitable that someone will land on the page at some point, it's up to you to ensure the experience isn't a damaging one. Want to know more on how considered design can increase engagement and conversions for your brand? Contact the team at NetConstruct today.