At 2020's Kentico Xperience Connection event, Kentico shared that they are moving towards a more agile solution. Rather than releasing a major version annually, they have created a clear roadmap outlining the planned release of regular updates. This will see Kentico Xperience continually evolve in line with the demands of both developers and marketers'.
The Kentico Xperience roadmap
For 2021, there are quarterly Kentico Xperience 13 Refresh updates planned; the first of which has already been implementing, bringing with it new developer and marketer features. The complete roadmap shows where Refreshes will occur across the year.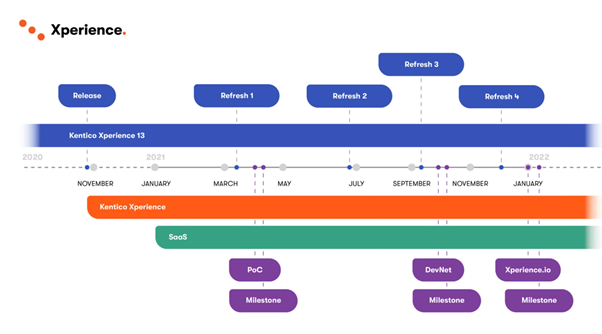 If you want to know more about the planned refreshes or submit new ideas to the Kentico team for consideration, you can do so here on their roadmap product board. Our team of developers have already submitted their ideas with some, including culture alias support for automatic routing, progressing quickly.
What did Refresh 1 include?  
The Debug module
A popular tool in Portal Engine, the Debug module made a return in the first Refresh of the year. This is a tool that many Kentico developers use to assist in debugging problems. Using the Debug module, you can view and debug SQL queries, macros and cache items straight from the administration portal.
For more information on the Debug module changes, take a read of this article by Kentico Xperience's MVP.
Recombee
Today, merchants want to offer accurate upsell and cross-sell recommendations onsite. This can be done manually by setting up Xperience activities and using content personalisation, but why not use the power of AI?
Recombee helps merchants increase conversion rates, average order value and improve the overall customer experience by providing relevant content and products to the individual.
If you need guidance on how to set up Recombee on your website, don't hesitate to get in touch with our team.
Bynder
The Refresh also included an integration with Bynder. A highly rated digital asset management platform loved by marketers, Bynder enables teams to easily collaborate in the cloud, create and publish content faster.
Local search indexes
The options for local search indexes have expanded. You can now build a search index that crawls the HTML output of a page and indexes the structured content fields against the page type.
This is a great feature for MVC sites where a mixture of page builder enabled page types and content only page types are used. Although a small change, I particularly love the new attribute for excluding HTML of a page. This means no more hacking by a developer to exclude headers, footers and other areas. Instead, developers can exclude them using the standardised data attribute - data-ktc-search-exclude.
Cache-dependency tag helper
With the cache tag helpers provided by ASP.NET Core, you can cache the output of page content and page builder widget content. However, Xperience now provides an additional cache-dependency tag helper.
This gives developers increased control over output caching expiration. By setting the right cache keys, developers can display the most up to date information while still using output caching which will help make our .NET Core MVC websites even faster.
Hotfixes
Finally, as part of the first Refresh, applying a hotfix now logs the start and end of the hotfix procedure – another small but significant improvement for developers.

Our experience with Kentico Xperience
A complete website CMS solution, we understand how powerful Kentico Xperience is. Always up to date on industry advancements and platform evolvements, our team hold a wealth of expertise and experience when it comes to building websites in this CMS.
We look forward to seeing what the future Refreshes hold and how we can apply these improvements to the websites we work on. If you want to know more about Kentico Xperience, please contact our team who will be more than happy to share their knowledge.