We live in a world driven by technology which influences how we function day-to-day. Communication has become instantaneous, endless content is available at our fingertips and further innovation occurs daily.
It has become paramount for brands, no matter their sector, to have a firm online presence that authentically represents who they are and what they do – an ambition that is more challenging for some sectors such as construction and manufacturing to fulfil.
Whilst the adoption of digital may have been slower, how architects, engineers and designers source materials is changing, shifting away from traditional showrooms towards online services. Thankfully, we hold extensive experience within these sectors and have a firm grasp on the challenges your business may face in cementing your online presence.
Common sector challenges
Translating a bricks and mortar business into an online experience is tricky, but not unachievable. The online experience needs to somehow reflect a business' offline experience, at least at some level. If it doesn't, customers will receive a disconnected view of the business they are dealing with which hurts your brand and creates cognitive dissonance. Given this challenge, some companies are resistant to technological change but rising consumer expectations and a growing range of devices and available platforms will continue to drive digital transformation.
Fear of the unknown, lack of in-house expertise and generally being overwhelmed by the sheer scale of the project are all common reasons that stall the adoption of technology within more traditional industries. PwC's Annual Global CEO survey discovered that the rate of technological advancement and cyber threats are amongst the top ten threats CEOs worry about, but other typical challenges may include legacy technology, a complex and varied supply chain, an expansive product offering or even bespoke price list management and kit lists.
The quality of your materials or the results of your craftsmanship may be best appreciated in person, and so many businesses continue to prioritise familiar territories such as customer-facing processes and product quality. Finding the time to address digital transformation is often put to one side, but if a company's aim is to remain relevant and competitive, digital transformation should be on the agenda.
Why tackle digital transformation?
Although it may be daunting, technology should be viewed as a tool. As always, it is the pioneers, the innovators and the fast movers that gain an advantage in a highly competitive landscape. Today, customers have high expectations, increasing the need for businesses to not just become more customer-centric, but also more adaptive. Embracing digital transformation, utilising available technology and implementing new processes will deliver business benefits, increasing the speed of operations, improving your products and services and building trust in your brand.
Customer experience is one of the top reasons for digital advancement in business, but changing customer expectations can actually help businesses to save money. Forbes supports the concept that "digital is helping customers do more with less", for example, a manufacturing company can use technology to communicate their catalogue to potential consumers rather than printing it, not only increasing ease of use for the user, but also reducing costs for the brand.
Customers expect real-time communication - something which your website can help you achieve. Providing your digital transformation is authentic and true to your offline business, evolving with digital change can help you to stay relevant and meet growing customers demands in a competitive landscape.
How to succeed with digital transformation
Creating an engaging user experience that aligns to your offline experience is key. You need to ensure that your great physical experience is matched with an equally impressive website, just as important, your outstanding online presence needs to reflect the physical realities of your business.
Your customers' expectation is no longer set by just you and your competitors however, but by all websites and businesses, they transact with, regardless of the sector. You shouldn't just be looking to translate your working processes online, you should also be aiming to transform them, making it slicker, easier and more accessible for customers. But keep in mind, any changes will need to be reflected in your wider business and not just online to deliver a truly joined-up experience.
No two projects are the same, but in our experience, there are some common factors that need careful consideration as part of your digital transformation strategy. These are:
Platform Choice: 
With expectations that there will be 50 times more digital content in existence by 2020 than today, the struggle to manage, analyse and implement information within a business is only going to be more difficult. With the right platform choice, you can have a flexible, scalable web solution that truly presents your business online. This is why we recommend Kentico.
Kentico CMS enables us to work closely with clients, creating bespoke designs from the ground up rather than relying on "one size fits all" templated solutions. Headless CMS offerings such as Kentico Kontent provide the freedom to create powerful cross-channel experiences that de-coupling control content from the front-end user interface, making your content and digital assets much more manageable.
User Experience: 
UX has the power to influence intent and behaviour. Understanding how your website can cater to the different stages within a user's journey is key to creating an intuitive website experience. 
Users want to easily search, compare and select products online. Focusing on the use of high-quality, lifestyle imagery to showcase products and services can ignite inspiration. Offering the ability to filter by colour, texture, material, product type and price provides an informative experience that helps users navigate expansive product offers and quickly find what they're looking for.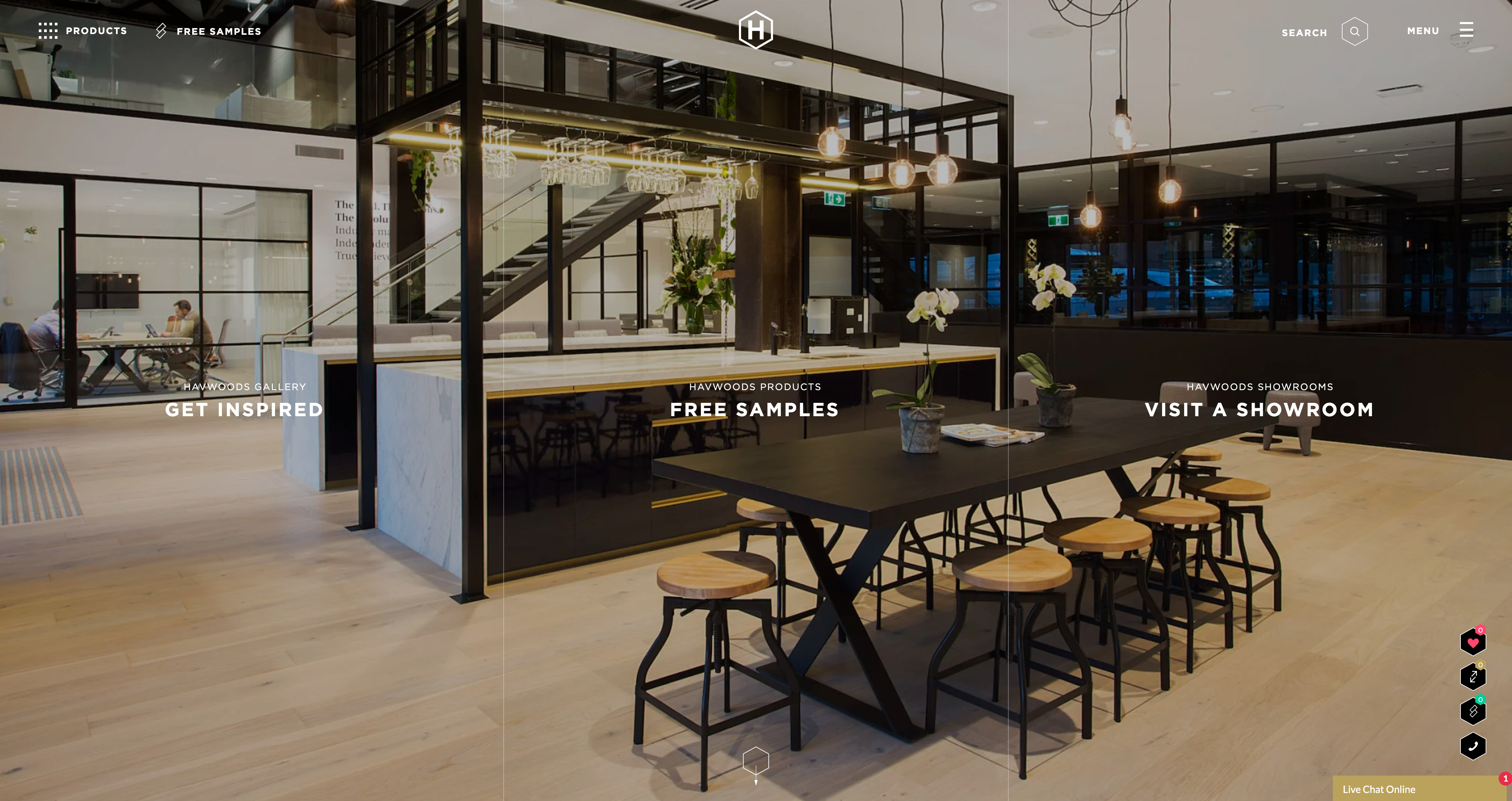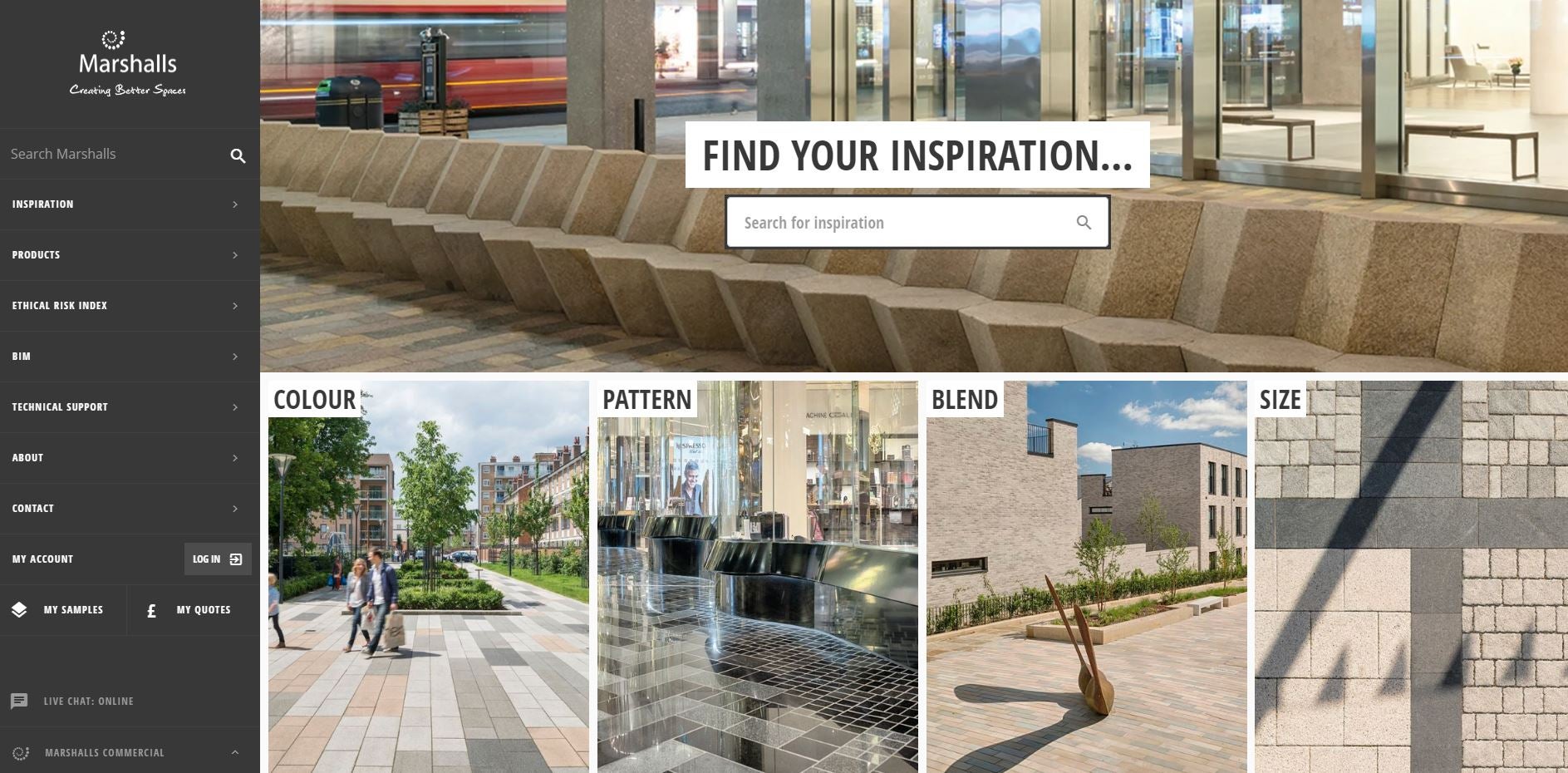 Users not only need to be made aware of required bolt-on products, but also complementary products and recommended services based on their selections. Setting up sophisticated, yet easy to manage product tagging within your CMS, it's possible to 'link' items, increasing that vital cross-sell opportunity yet providing a richer, more relevant experience for users.
Built-in sample request functionality will boost buyer confidence, ensuring quality leads by simplifying your quote or sample request. Reducing friction, we recommend using React to make it easier for users to request samples and encourage conversion. You can see examples here of how we've delivered this for our clients Marshalls and Havwoods: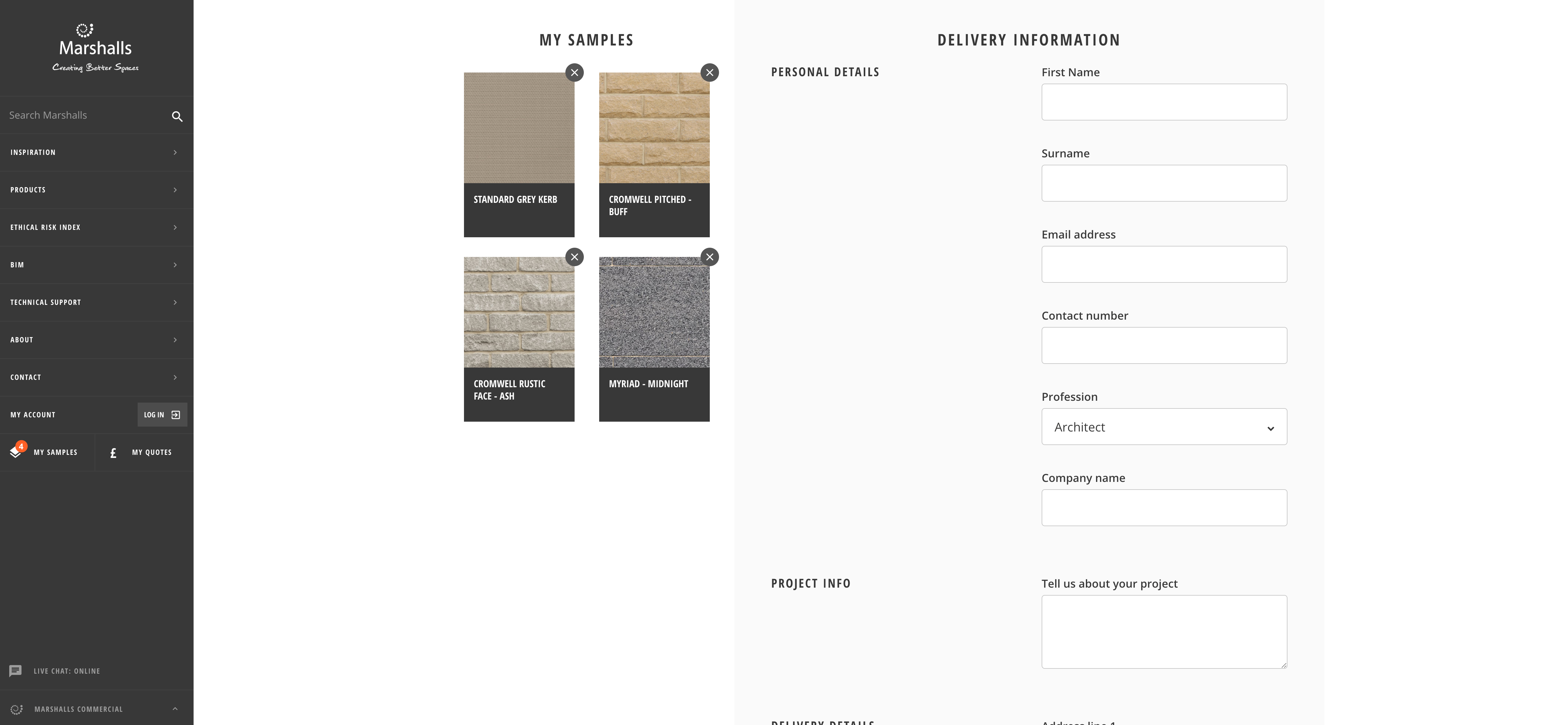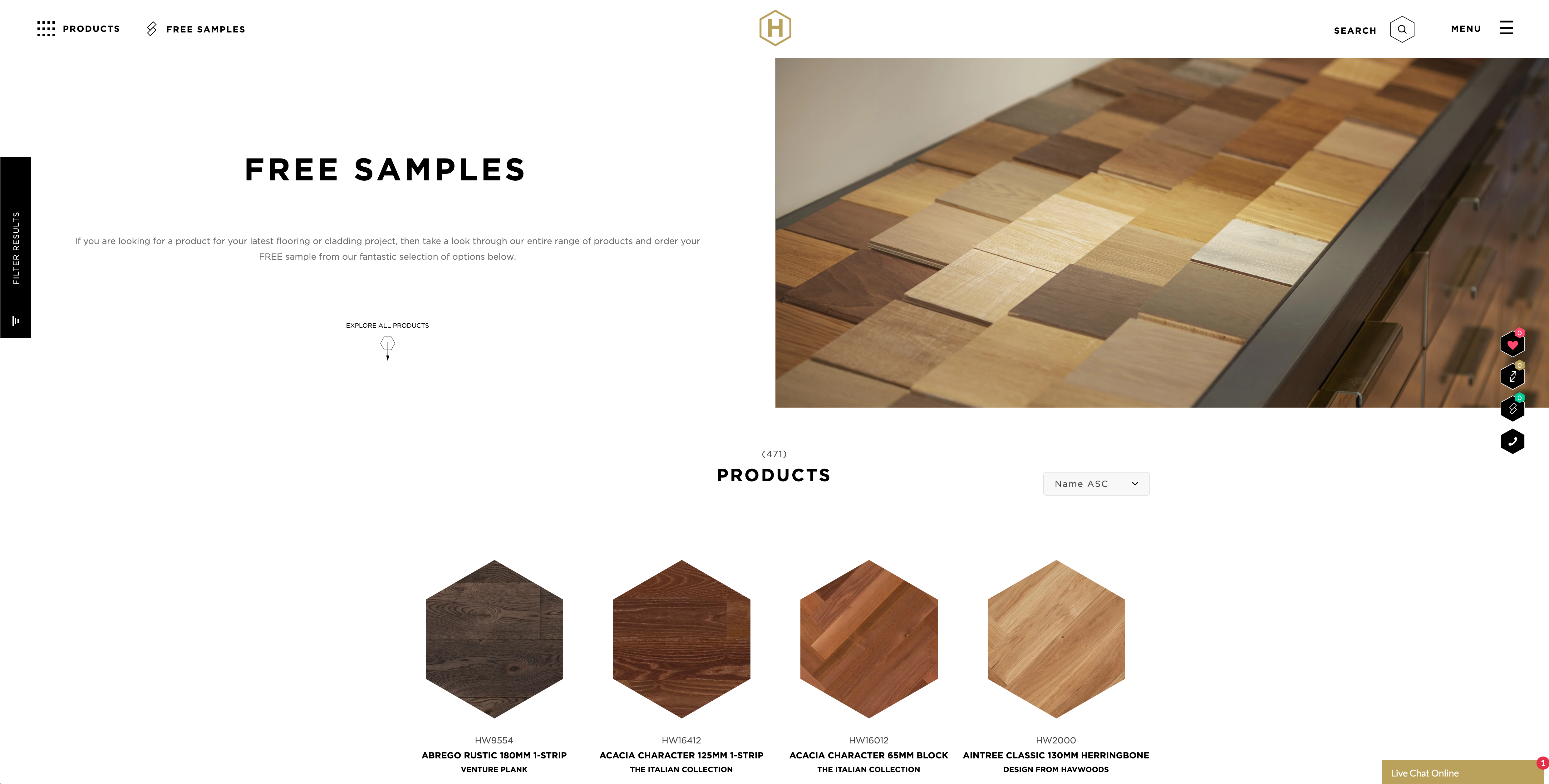 Audiences naturally vary, how they source and research products will differ. Some will prefer a physical showroom experience, whilst others will demand a quick and easy online platform. Bring your physical and digital experiences together with a store or showroom locator. Postcode or geo-locator solutions such as Loqate help your customers find their nearest showroom and encourage engagement in the method they are most comfortable.
We enjoy the challenge of building feature-rich, sector disrupting websites for manufacturing and construction businesses. With our help, you can translate your business online. Reach out to discuss your requirements and find out how we can help you address digital transformation.