There's no doubt about it, the ongoing COVID-19 crisis has impacted every business in some way, and yet, user demand is still there. But what if your business is unable to maintain your standard telephone response times?  
As customers and clients have been forced online for the foreseeable, your website has fast become your best asset for communicating with your audience. Optimising and utilising it can help keep your customers satisfied in an uncertain time, providing answers to their questions efficiently. 
How can your website help? 
Whether it's contact forms, pop-ups, live chats or comprehensive FAQs, there are many ways you can leverage your website to stay in touch with your users during the COVID-19 crisis. The examples included throughout this blog show how we have been helping our clients across a range of sectors stay connected with their customers. 
Filtered contact forms 
Many websites have a basic contact form onsite allowing users to submit enquires. But, did you think how you could filter your contact forms to ensure urgent messages are picked up quickly?  
Applying a dedicated COVID-19 contact link at the top of the page or on the footer of a related page allows users to send related enquires that are filtered separately to general website enquiries. You can also include dropdown options within your contact form so users can select the type of enquiry they wish to send. That way, they can be picked up by the relevant team and processed quicker. 
Quick links 
Onsite quick links highlighting changes to services are a quick and easy way to share essential information with your customers. They are also highly visible on a site which supports user navigation and shows the business' understanding of what the user may need to know right now. This example, also from Ongo, clearly communicates changes on how issues can be reported and provides a clear link for further information.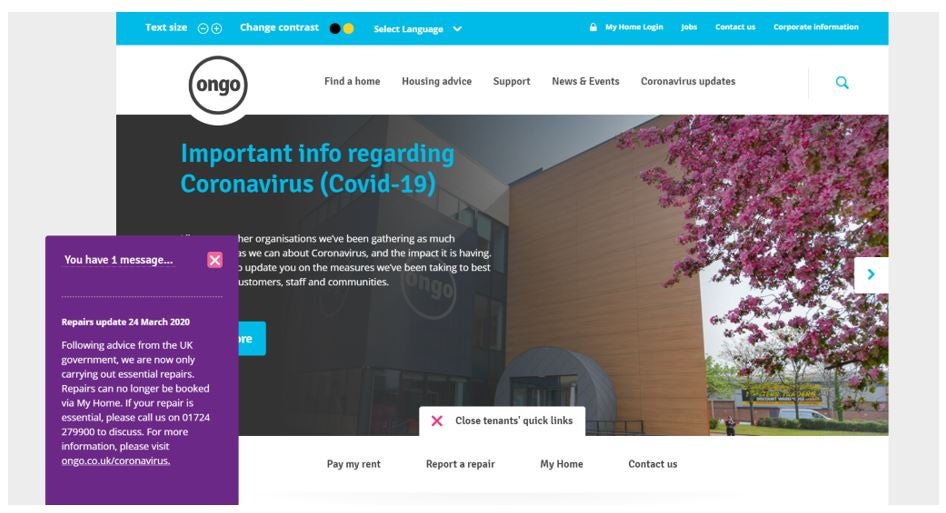 Onsite banners 
A simple yet effective way of directing your users to important information, banners provide clear signposting and easy navigation. They're also an ideal place to promote key information clearly, making the user journey convenient and quick.  
InXpress have shared a link to important COVID-19 information at the top of their homepage, linking out to a dedicated landing page. Through onsite banners, you can inform users of any updates to your business.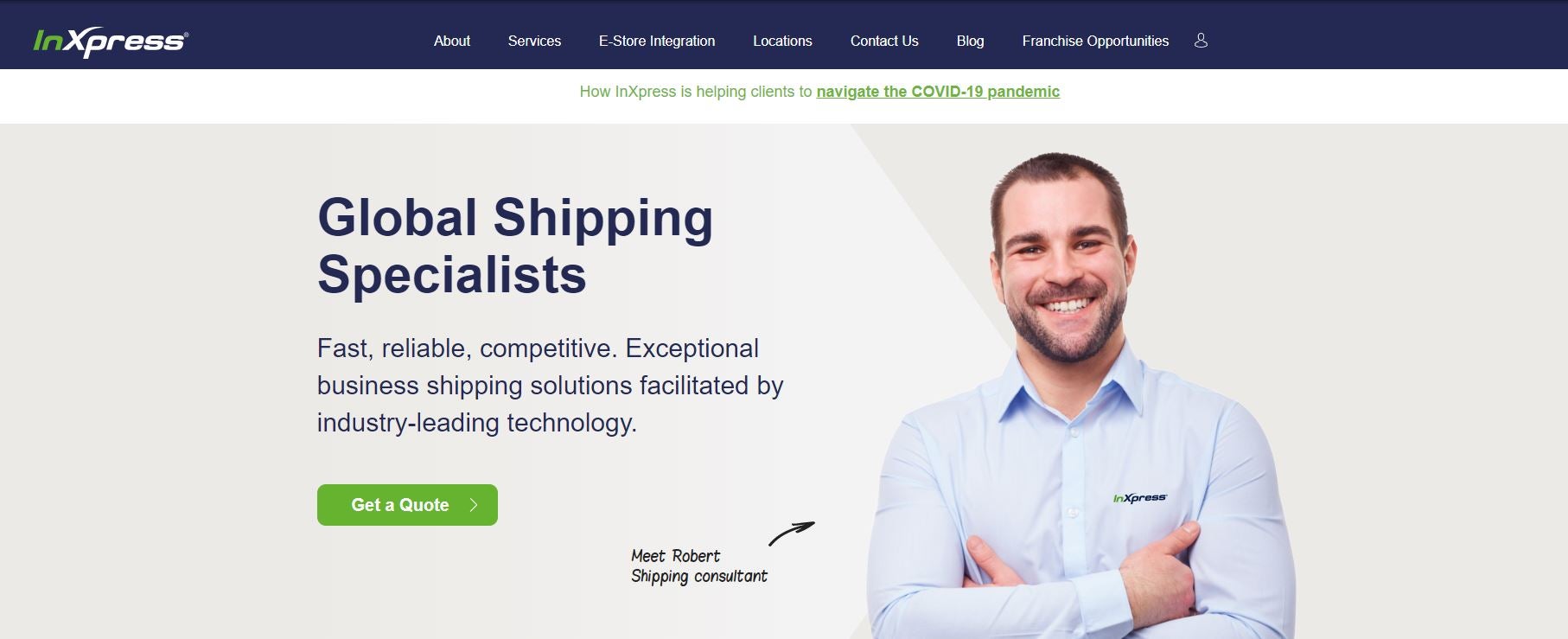 Live Chat 
Live chat is an effective method for staying in contact with your customers. Not only can it be operated remotely, but it also allows businesses to speed up response times and speak to their customers directly. A number of our clients have reported a high increase in the number of enquiries from their live chat box.  
Many user groups (such as older or vulnerable individuals) may be feeling anxious and isolated during the current situation. The key benefit of live chat is the immediacy of response. By using a pop up for your live chat, you can encourage users to actually speak to you direct and satisfy their needs faster. Having these features in place makes your audience aware that they are able to report issues and get a fast response, providing reassurance and peace of mind.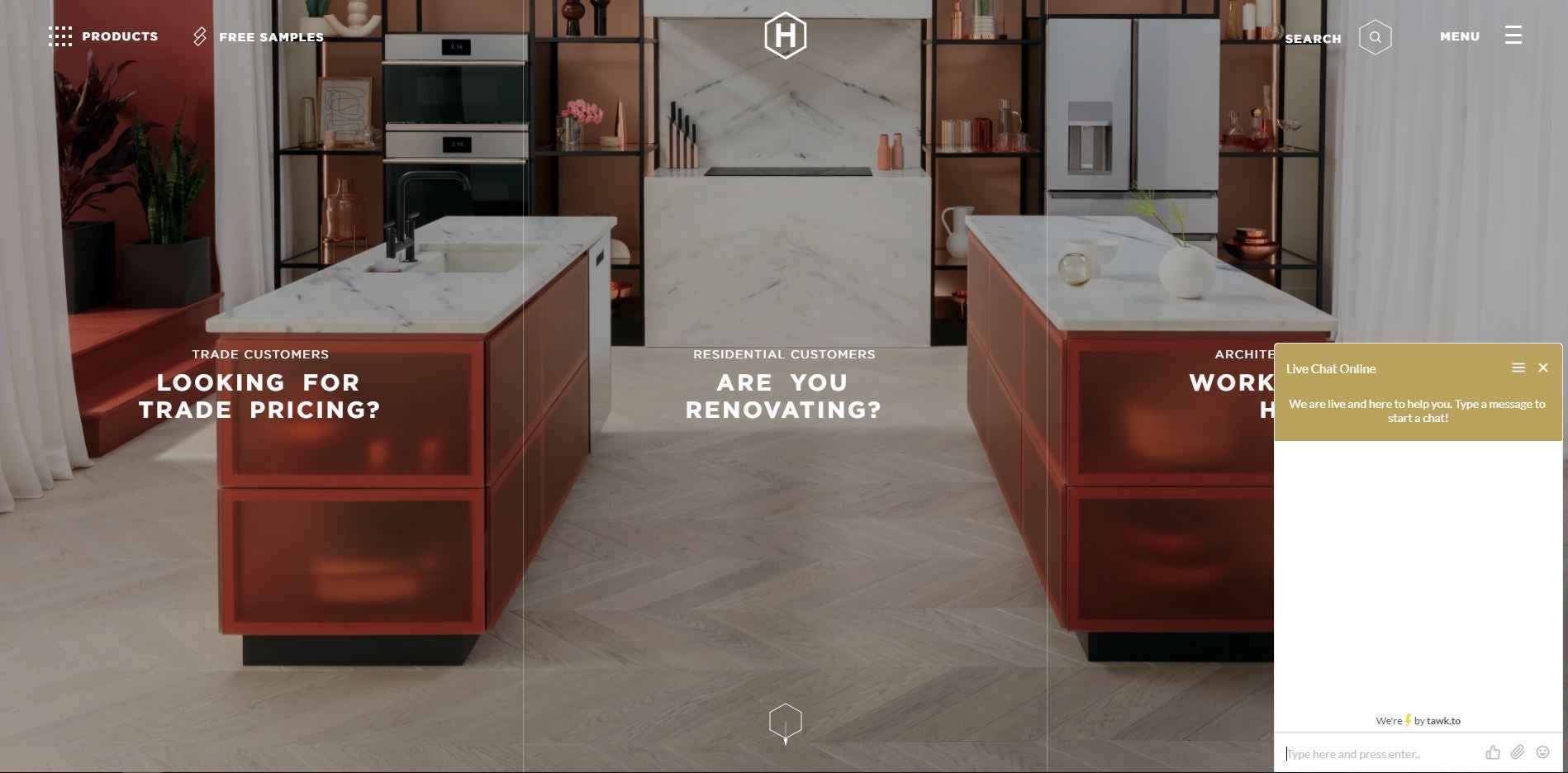 Landing pages  
A dedicated landing page is a clear way to communicate your company statement during the pandemic. It's quick to update and allows you to keep users informed of any changes alongside sharing links to useful information and assets. Alternatively, if you are unable to easily create new landing pages, this information can also be communicated through a blog or news post. 
Using landing pages, you can control, update and direct users to that single page with your very latest COVID-19 information. You may choose to release an official statement that is more corporate and post it as a news story or landing page. Or, you may also want to create a hub of resources for users to access. This depends on the relevancy to your business in regard to the situation.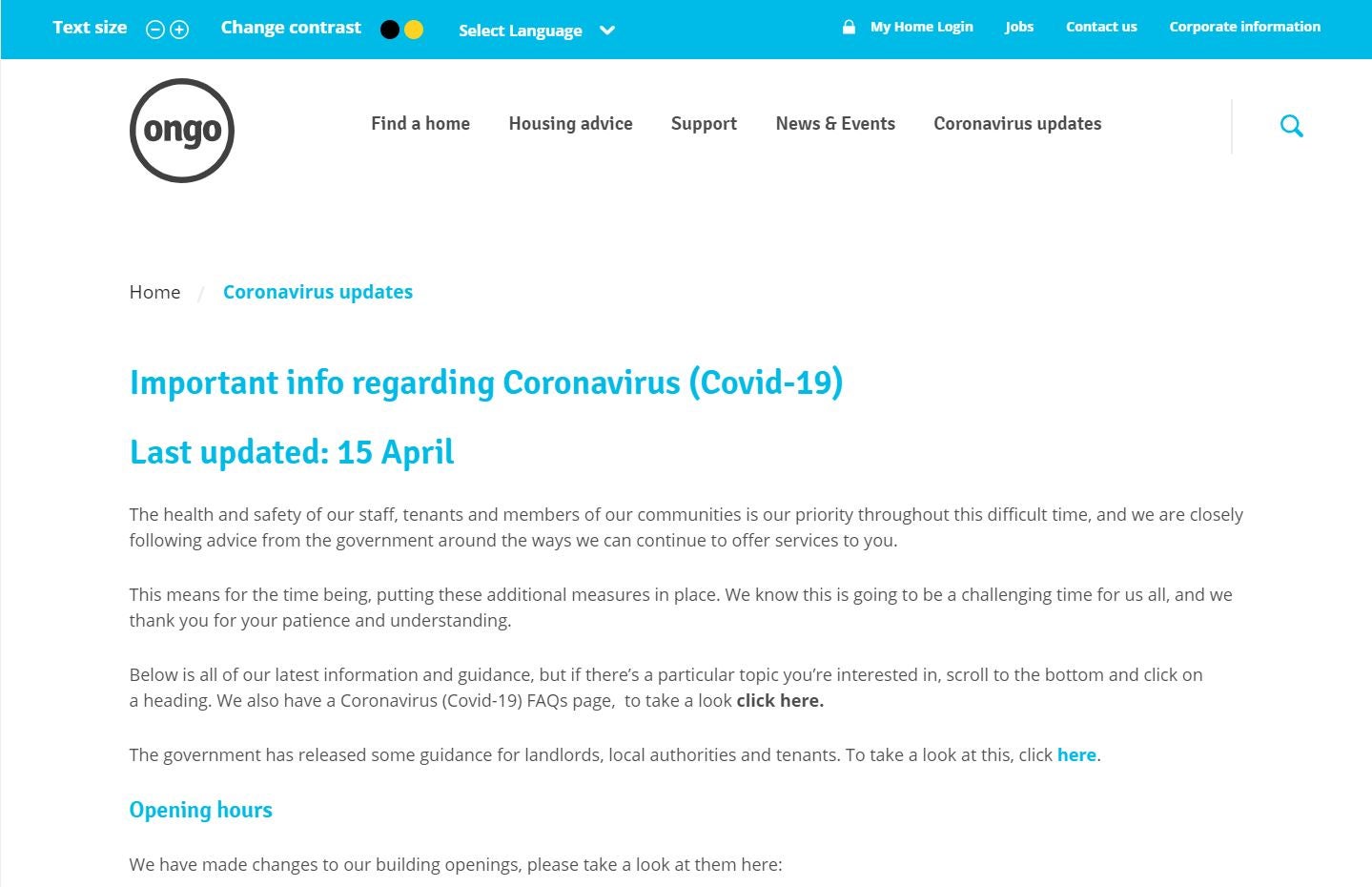 Update your customer service and contact pages 
Many businesses have temporarily stopped production and closed warehouses meaning online orders cannot be fulfilled. In this example from Premier Polytunnels, they have updated their webpages to inform users they are unable to take new orders and have then elaborated this further on their contact page. This is an effective feature as the first thing someone would look to do is contact them. By providing the information on that page, it helps prevent an increase in enquiries on their operations.  
If your business is still able to provide products and services to users, your contact or customer services page is the best place to communicate changes to delivery times and returns policies. Your contact page is also the perfect place to highlight your FAQs, providing answers to the common questions so users are able to find answers without having to get in touch.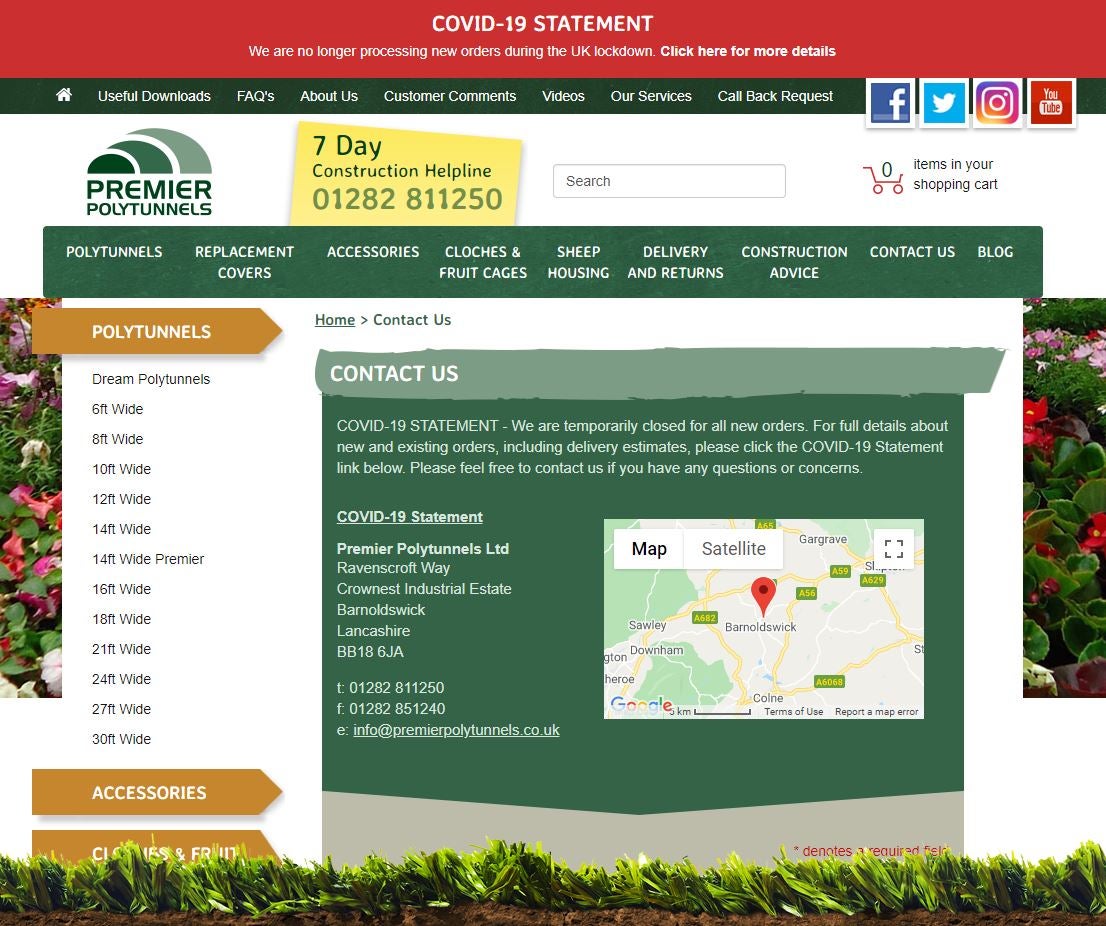 Auto-responder emails 
It's a good idea to create a new response email that is automatically sent once an enquiry is received through your website. Within this email, you can let consumers know if your business is currently closed, set expectations of response times, share a link to your company statement, dedicated COVID-19 landing page or FAQs. With these expectations set, it prevents users from chasing the business which means fewer enquiries to respond to. 
Let them know you're still there 
Sending your existing client list an email lets them know you're still open for business, reassuring them that they're still in safe hands. Within this email, you can outline important information such as amended working hours, the best way for them to contact you and set expectations on response times.  
If you're experiencing a surge in enquires, let them know as this will likely impact your ability to get back to them quickly. If you have a FAQ resource, share a link to it, hopefully supporting users in finding the answer to their question without having to contact you. 
Social media 
Whether it's Facebook, Twitter, LinkedIn or Instagram - to name just a few - social media is now one of the most common ways of staying connected day-to-day. It is also a valuable asset for businesses in 'the new normal'. Using these platforms, you can effectively reach your audience to share company statements, contact information, common queries and customer challenges, demonstrating how your business is adapting in the crisis. This is also an authentic way of introducing a personal element, showing how your staff are servicing customers. 
We're all adjusting to a new way of working. As such, businesses need to relook at how they are keeping in touch with their customers. While you might not be able to respond to an enquiry straight away, transparency and communication are key. By ensuring users have access to key information, changes to services and how they can reach you, you will be providing reassurance that your company is still able to support them at this time. 
If you need help or advice on how you can utilise your website to stay in contact with your users, get in touch today.